Sales Assistant Part Time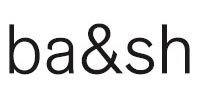 www.ba-sh.com
Company description
Contemporary and emblematic house of the affordable luxury sector; ba&sh has been offering a free, feminine and Parisian style through an authentic and international brand, since 2003.

ba&sh is firstly a friendship story. A friendship between two women, Barbara & Sharon, who associated their names to the creation of ba&sh, with one goal: creating their dream wardrobe. A wardrobe designed outside of the box by women, for women.

ba&sh is a humane brand, built around the values of happiness, empathy, curiosity, energy, listening and sharing.
Job description
As an ambassador of our brand, you will be in charge of the following missions:

- present our collection to our customers and provide them with professional and friendly advice

- increase your turnover through additional sales

- build the customer loyalty using our CRM process

- participate in the daily missions i.e. replenishing sales floor, following the company standards, maintaining the stock room
Profile
You are enthusiastic about fashion and styling, with a prior sales experience.

You have great interpersonal skills and you like to advise people on their look.

You are eager to work within a friendly team and participate towards our development in the British market !

Contact
Stevie Felvia