Area Sales/Business Development Manager (Russia And Cis)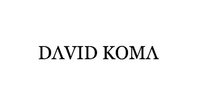 UNIT 3, 1 NEW INN YARD
+447552862989
www.davidkoma.co.uk
Company description
David Koma is a Georgian born, London based fashion designer who has become synonymous with the ultra body contouring silhouette. Creating sculptural statement dresses inspired by the feminine form, it is this design element that has projected the young designer onto the international stage.
After studying Fine Art in St Petersburg and showing his first collection at the age of 15, Koma moved to London in 2003 to take up a place at the prestigious Central St Martins College of Art and Design.
It was here that he channelled his love of fashion and honed his design skills to create his signature look. He completed his BA in Fashion Design and graduated with a distinction in MA Fashion in April 2009 under the mentorship of late Professor Louise Wilson, OBE.

Straight after graduation David Koma launched his eponymous label and is a participant of London Fashion Week.

In December 2013 David was appointed as Creative Director of French house Thierry Mugler. He left the House in December 2017
Job description
•Responsible for client relationships and communications, showroom appointments and account management from initial order, processing, consolidation, confirmation, shipment and relevant paperwork.
•Responsible for sales during market to drive orders and ensure all stores in the area are satisfied.
•Organisation of the showroom and the appointment schedule.
•Develop wholesale and retail pricing structure with seasonal price lists to ensure collections are competitive, on brand, and meet company margin targets.
•Develop and nurture relationships with clients (online, department store and specialty store accounts) through constant communication and support. Share all collection and brand assets with clients seasonally.
•Actively manage customer orders to ensure that they meet deadlines, review all orders, send OCs, update all T&Cs, agree payment terms and assist with late payments where required.
•Create brand and product knowledge training packs, conduct product training sessions and train seasonal showroom staff for all collections.
•Monitor sell-through reports closely to increase customer spending by suggesting re-orders and swaps where possible. Manage any claims, returns, and end-of-season return agreements.
•Prepare weekly reports including, but not limited to, sales figures, sales forecasts, stock levels, bestsellers, KPI's and Visual Merchandising.
•Continual market research to understand market potential and competitor environment. Identify new markets and create outreach plan to implement.
•Continuously update and develop customer database in Russia and CIS
•Liaise with Production team to clearly understand and anticipate delivery dates of finished goods and relay to customers accordingly.
•Work closely with Finance and the MD to plan incoming payment schedule.
Profile
- attention to details
- organisational skills
- russian language

Contact
Alex Loginova