Supervisor or Key Holder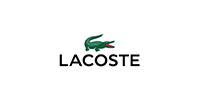 Holborn Gate, 4th Floor 326-330 High Holborn London WC1V 7PP
02071131212
https://www.lacoste.com/gb/a-french-story.html
Company description
Lacoste is a French clothing company, founded in 1933 by tennis player René Lacoste and André Gillier. It sells clothing, footwear, perfume, leather goods, watches, eyewear, and most famously polo shirts.
Recently signed Novak Djokovic as our new crocodile.
Job description
•To take responsibility for maintaining and increasing sales throughout the year and achievement of set financial targets.
•To liaise and update the store manager and assistant manager regarding financial targets and weekly reports relating to the store,
•To maintain a high level of customer service at all times
•To ensure all staff receive the relevant product training throughout the year
•To assist in managing staff performance with support from the store manager
•To maintain a good standard of appearance and to undertake to wear clothing allowance as provided by the company
Profile
An exciting new opportunity has arisen to join our Braintree Outlet – we are looking for an experienced Retail Supervisor or 2 Key Holders on a job share basis also considered, to join our team of Brand ambassadors and represent our heritage and Brand values through exceptional Customer service.

As a brand we aspire to be world leaders in retail and as such all of our employees should reflect our core values in the way we work. The key to our success are the people who can dynamically reinforce our roots as the world's best lifestyle and sportswear brand and we are looking for individuals who can reflect this heritage with their experience and customer service skills.

Our classic 1212 polo is proof that Lacoste and Lacoste employees should create colourful memories for our customers through every stage of their shopping experience whilst visiting our boutiques throughout the UK.

Lacoste would like to attract others who share this dynamic enthusiasm for the brand.
We believe in nurturing the talent of our employees and developing their skills in all areas of the business.


Specific needs
•Two years senior sales/supervisor experience working for a premium brand
•Experience working within a face to face sales environment
•A strong Knowledge of products and trends
•Strong interpersonal and sales skills
•The ability to motivate and drive a team to achieve sales targets
•A strong use of initiative
•A good team player, helpful, approachable and motivated.
•Visual Merchandising experience
Contact
Ms Ying Poon