Product Manager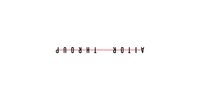 Unit 8 Slater Terrace Trafalger St.
01282222181
https://www.aitorthroup.com
Country :

United Kingdom

Region :

County :

Lancashire

Town :

BURNLEY
Company description
Aitor Throup is an artist, designer and creative director.
Throup's multidisciplinary design house (A.T. Studio) prides itself on the development and execution of all its products and projects to the highest level, internationally and across multiple industries including fashion, art, film, music and graphics. A.T. Studio is defined by an innovative approach to design, development and production with an emphasis on process and experimentation.
Job description
A.T. Studio, the award winning design studio of acclaimed designer Aitor Throup and his directional menswear brand, is looking for a Product Manager to join a new team based in Burnley, Lancashire.


We are looking for a motivated, dedicated and highly organised individual possessing excellent problem solving skills and tremendous communication abilities.


The Product Manager requires a strong understanding of production processes and will be expected to manage internal and external production and technical workflow, ensuring exceptional quality is met whilst managing deadlines, budgets and calendars.

Profile
Responsibilities
Manage the life cycle of products from development sample through to bulk production and delivery, and be responsible for order placements.
Closely monitor and manage critical paths ensuring all deadlines are met and adhered to, including bulk raw material orders and approvals from development teams, global factories and suppliers.
Monitor and manage the shipment process to ensure orders are collected and delivered as per the agreed shipment date.
Making garment costings and consumption estimates.
Keep track of back orders and oversee QC on garments on arrival.
Producing detailed and comprehensive briefs for fabric mills and garment suppliers.
Researching, selecting and developing new trims, labels etc.
Responsible for the successful management of product-focused aspects.
Skills
A motivated self starter with excellent problem solving skills.
A quick learner and able to work within a dynamic team, adapting to the daily needs of the team.
Excellent organisational skills and a strong team member who can also work well independently.
Mac proficient with excellent IT skills, especially working with Excel.
A commercially-minded individual, with excellent analytical skills and experience of budget management.
Organisational and time management skills.
Ability to work under pressure to meet deadlines.
Strong attention to detail.
Proactive, flexible and able to multitask.
Ability to build and manage strong and effective relationships with external suppliers.