Account Manager Women's Accessories And Sunglassess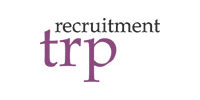 02074332539
www.trprecruitment.com
Company description
TRP offers continued dedication to a tailored made and bespoke recruitment service. We pride ourselves on delivering the ultimate quality service by taking our time to talk and listen to both our candidates and client's needs.We constantly strive to provide an innovative and unique solution in our drive for perfection. Above all we offer uncompromising attention to detail in each and every one of the roles will fill with our clients.
Job description
Reporting to the Head of the Accessories department you will need to be a fashion focused individual, who can work alongside a sales driven team of Account Managers and oversee the company's growing business selling into leading fashion forward retailers.

Your primary responsibilities are to develop and lead the team with existing business, and to develop new sales opportunities.
Regular internal sales strategy meetings, reaching sales targets plus developing strong relationships with accounts to maximise sales.
Demonstrate a talent for selling, with strong negotiation skills plus strong product knowledge.
Work closely with the design team to ensure that trend forecasts are met and customer expectations are maintained.
Meeting customer deadlines for products and presentations.
Forecast trends and bring innovation to the product areas.
Present in customer meetings with confidence and accuracy.
Profile
Our client is currently looking for an experienced Account Manager for their Women's Accessories division. They are key suppliers of fashion accessories to the High Street and overseas multiples, product areas are - bags, belts, soft accessories, knits, caps and hats.
Specific needs
Person Requirements:
Must have an understanding of the technical side of products and how to bring them into price.
Industry knowledge ideally with experience of cold weather accessories.
Business development utilising sales skills.
Excellent communication skills.
Ability to liaise with personnel at all levels.
Confident presentation skills - client facing.
Experience of managing a sales team.
Contact
Val MAY